No matter what industry you work in, it's always important to have a clean and hygienic space to work in. With the rise of viruses like COVID-19 and the flu-season almost upon us now can be a good time to evaluate the cleaning processes you have in place, and whether you need to invest in a more robust commercial option to keep your workplace clean and free from germs and contaminants.
There are a number of commercial and industrial cleaning options available for businesses, some will need a professional to come onsite and do the job for you, and others where you can manage the process and equipment yourself. Two common types of commercial cleaning used in industrial workplaces across New Zealand are sanitisation and fogging.

Read on to find out more about the different sanitisation solutions available for commercial and industrial businesses.
But first, is there a difference between sanitisation and fogging?
While both sanitisation and fogging work to remove unwanted contaminants from surfaces and hard to reach places, fogging sanitisation shouldn't be confused with standard sanitisation.

Standard sanitisation generally means the spraying of disinfectant chemicals directly onto areas to combat bacteria and germs on the surface. While this can be a very effective way to directly target areas which you know have been contaminated, it won't reach into extra hard to reach places that may also be contaminated. As viruses and bacteria can be transported via water droplets this means they can reach places hidden to the eye.

Fogging sanitisation is the process of using compressed air to project ready-made chemical solutions or 'dry fog particles' into the air. The fogging process allows sanitising chemicals to reach into small and hard to reach spaces that hand cleaning alone wouldn't be able to reach. Because of this, fogging is an ideal sanitisation solution for large industrial environments such as food processing and manufacturing plants.

Fogging can also be used to suppress unwanted dust and smaller airborne micro-particles created by external conditions and processes to make the environment around us safe, and comfortable to work in – for example, the workplaces in the recycling industry.
Benefits of fogging sanitisation
There are many benefits to fogging, and using foggers for sanitisation. These include:
Economical
Foggers have a low liquid consumption per m3 of surface area covered, which means they're very cost-effective.
High coverage
Foggers produce small water particles that are high density. Once dispersed, these particles will find their way into areas that no other application can.
No lingering residue
Fogging machines produce a very fine mist with water particles of only 1–10 microns in size. Such a fine mist means that there is no residue left on surface areas.
Easily controlled
The fogging process can be easily controlled with both manual, or automatic systems. Fogging liquid can be made more visible with colour additives if necessary. Timers can also be used to complete regular scheduled fogging during non-production.

It's for these reasons that we recommend fogging sanitisation, as it's an economical solution that works to eliminate germs and contaminants in an entire area or room, not just in one space. Most fogging machines can also be easily carried making them very mobile – you can easily shift from room to room, that requires sanitisation.
Fogging sanitisation solutions
Here at Industrial Air Systems NZ we offer both on-site fogging sanitisation services as well as sanitisation systems that can be used yourself, without the need for a professional to come on-site.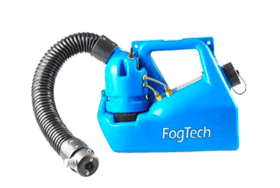 For businesses that have the ability to operate a fogging sanitisation machine themselves this can be a great way to get your workplace clean and free of contaminants without having to break your 'bubble'. We supply a range of portable and fixed sanitisation machines (both electrical and compressed air powered), for your factory, warehouse, or office space.
Learn more about the fogging systems we offer here >


At Industrial Air Systems NZ we pride ourselves on being industrial air experts. With a wealth of knowledge and years of experience working in the compressed air industry, we're happy to help you find the fogging or sanitisation solution that's right for your business. If you're after a sanitisation solution that's different to what we've mentioned above or you would simply like to enquire about the services we offer, we encourage you to contact us now to discuss your specific requirements.