Whether you need an air compressor for a small workshop or perhaps you require a more advanced system for a manufacturing operation, there are now many different types and sizes of air compressor at your disposal. As technology has advanced so too has the technology that powers air compressors – there's no longer a 'one size fits all'. The type of air compressor that you choose for your business will be determined by a number of factors and it's not as easy anymore as simply deciding between a rotary screw or a piston air compressor.
One essential factor that you must consider when choosing a new air compressor is whether you go with a compressor that operates with fixed-speed, or variable-speed technology. While there are certainly different benefits to using fixed or variable-speed technology to power an air compressor, just which option is better, and could end up cutting down your energy costs?

In this blog, you'll learn what the differences are between fixed-speed and variable-speed air compressors. As industrial compressed air experts, we'll also advise just which technology we recommend for an air compressor that will not only operate effectively but efficiently too.
What's a fixed-speed air compressor?
Air compressors that use fixed-speed technology aim to keep the speed of the air compressor at a constant level. This type of technology allows compressors to run at full speed which makes them ideal for applications that require compressed air at a constant level, around-the-clock. The air compressor will run at a constant RPM unless turned off and the inlet valve will only change based on when air needs to be used (instead of increasing the engine up and down).

You'll find that many traditional air compressors operate this way, and will use fixed-speed technology to provide compressed air at a constant and consistent rate.

The benefits of using a fixed-speed air compressor include:
Efficient when used in applications that require constant compressed air.
Lower up-front cost.

What's a variable-speed drive (VSD) air compressor?
When compared to fixed-speed air compressors, variable-speed drive air compressors can be a much better option for those businesses and manufacturing operations that don't require compressed air 24/7, or whose use of compressed air is likely to vary from time to time.

Variable-speed drives will allow an air compressor to only run at the speed and voltage required to give you the exact amount of compressed air that you need for the job at hand. Air compressors that run on variable-speed drive technology can run on 100% airflow or can fluctuate to use less air and power if required. This type of air compressor works well for businesses whose compressed air use is likely to change and who would rather have a more energy-efficient air compressor.

The benefits of using a variable-speed drive air compressor include:
Less energy consumption when used in the right application.
Reduced power costs.
Less power surges.
More control – if a permanent magnet motor is used, it can be slowed down and brought to a complete stop in as little as 60 seconds of no air use.

What's the best air compressor?
So should you choose a fixed-speed or variable-speed drive air compressor? The compressor that you choose will ultimately come down to how you will be using the compressed air, and whether you will need it running consistently and constantly. As we now know the constant supply and use of compressed air is much more suited to a fixed-speed air compressor that is designed to function this way.

However, if it's likely that your demand for compressed air could vary then an air compressor that uses variable-speed drive technology, combined with a high-efficiency permanent magnet motor, is a much better choice. This type of technology will make sure that your air compressor is only running at the speed and voltage you need. This type of compressed air use is a lot more energy efficient than compressed air that's running all the time and will make sure you're only using the amount of compressed air that's required – nothing will be wasted.

Variable-speed drive air compressors with permanent magnet motors are the most energy-efficient air compressors on the market, and can be suitable for a wide range of applications.
Benefits of a variable-speed & permanent magnet air compressor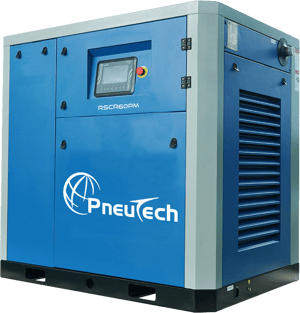 While traditional variable-speed compressors are a lot more efficient than fixed-speed compressors, it's important to note that the motor will still run even if the air is not being used. However, with the addition of a highly-efficient permanent magnet motor, your air compressor will be able to come to a complete standstill. This has the potential to cut down compressed air power costs in a factory by up to 60%.

We work with leading air compressor manufacturers globally, to supply the PneuTech range of compressed air systems to a variety of New Zealand businesses, big and small. While there are a number of different air compressors to choose from, the air compressors that we highly recommend for the majority of industries are the permanent magnet (PM) range. This includes the Vixen integrated compressor (includes air receiver) up to 15kW, and the stand-alone series up to 110kW.

The PneuTech PM series of air compressors use permanent magnet, variable-speed drive technology to seamlessly speed up and slow down, or even completely stop, the compressor to match your air demands. After 60 seconds of no air demand the motor simply stops. When installed into a business with an air demand that varies throughout the day, the savings can be significant!

Along with being highly energy efficient and the potential power savings you could see, there are many other benefits to the PM compressor range. These include:
Unlimited motor start/stops per hour.
Dual cooling system.
Low noise.
Direct connection (no gearing).
Easy to maintain.
Easy to use with a full-function controller.

For more information on the PM range head to our website.

If you would like more information on the PneuTech range of variable-speed permanent magnet air compressors and would like to know how you could incorporate one of these into your factory, then we would love to hear from you. You can contact our team of compressed air experts by clicking here.