If you work in a business that manufactures food and beverages, pharmaceuticals or electronics and you require the use of compressed air then you will no doubt know the importance of having high quality compressed air on hand. Compressed air can contain unwanted substances like oil and water, so it's important that the compressed air you're using is up to the required standard for the job. Poor quality compressed air can affect operations and, depending on where you're using the compressed air, these unwanted substances can impair your production results, staff health and end up costing you more money.

Luckily there are common international standards in place that you can use to check if your compressed air is up to scratch. These standards are also great to refer to for continued monitoring of your compressed air, and to make sure it's always at the quality you require. Read on to find out more.
What contaminates compressed air?
Contaminants in compressed air have three potential points of origin. These are:
From the air drawn into the compressor.
From internal compressor mechanisms.
From the compressed air distribution system.
Compressors can draw in almost all particles, vapours, and gases within a six-foot radius of the inlet. Smaller particles less than 10 microns in size, can be drawn in from a larger radius. Most of the airborne particles that are smaller than 10 microns in size will generally enter the compressor.
Contaminants that enter the compressor are then broken down into four general categories. These are:
Particles (from pipe scale, wear particles and atmospheric dirt)
Water (liquid, vapour and aerosol)
Oil (liquid, vapour and aerosol)
Microorganisms
Air quality standards for compressed air
When it comes to testing the quality of compressed air, there are three standards currently in use which relate to compressed air quality. These are:
ISO 8573 Series
ISO 12500 Series
ISO 7183
The most referred to and commonly used of the standards is the ISO 8573 Series. ISO (International Standards Organisation) is a global network that brings together experts to share knowledge and develop market-relevant International Standards that support innovation and provide solutions to global challenges. The International Standards they create provide world-class specifications for products, services and systems, to ensure quality, safety and efficiency.

Selecting ISO 8573 as the basis for compressed air quality monitoring and testing is the best choice, since it provides a common language that all involved can refer to.

The ISO 8573 series consists of nine parts that address compressed air quality. ISO 8573-1 is the most referenced of the series as it specifies the quality or 'purity' requirements for compressed air. Parts 2 through 9 are still helpful and shouldn't be dismissed entirely as they provide useful information for places like labs who would be interested in analytical techniques and sampling methods for compressed air.
Defining air quality
ISO8573-1 is the primary document used from the ISO8573 series. It lists the three main contaminants of compressed air as Solid Particulates, Water and Oil. The purity levels for each contaminant are shown in the table below.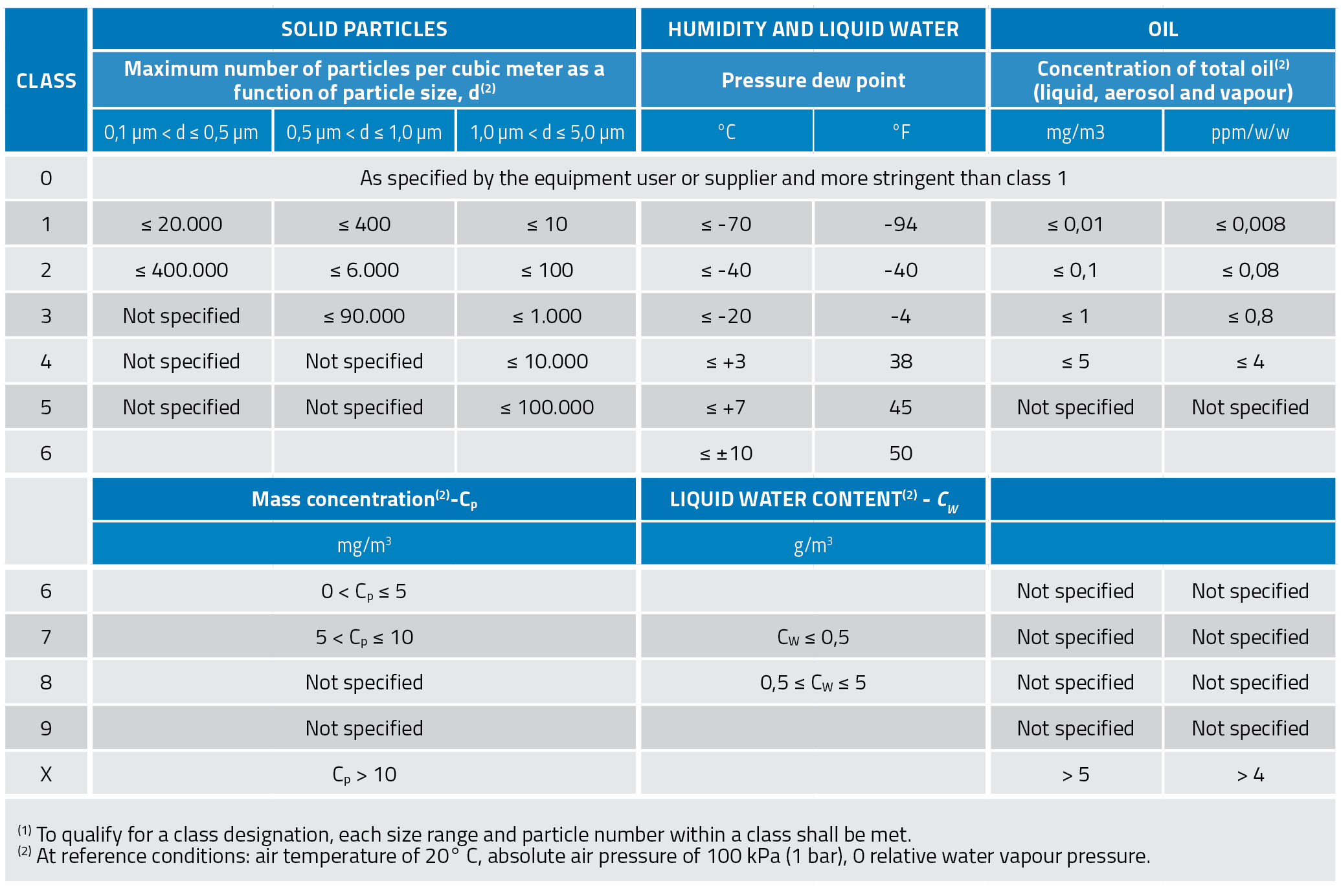 When checking compressed air quality, the standard must always be referred to, followed by the purity class selected for each contaminant.
The Purity Classes
The purity classes for each contaminant range from the cleanest, class 0, to the most impure, class 9. Note that the water category is the only contaminant that uses the full range of classes. It's also important to note that class 0 does not have any numbers associated with it. Class 0 doesn't mean that there are no contaminants present; it just means there are fewer contaminants than in class one.
Solid Particulates
There are eight potential classes for solid particulates, from class 0 to class 7. Classes 0 through 5 are defined by the number of particles in a particular size range, in one cubic metre of compressed air.

Classes 6 and 7 define compressed air that is typically too "impure" to be measured with a particle counter. Instead, mass measurements are used to determine the amount of contamination in the compressed air.
Water
There are ten potential classes for water contamination, from class 0 to class 9. Classes 0 through 6 are defined by the pressure dew point of the compressed air. Pressure dew point is the temperature at which moisture begins to condense in the pipes and storage tanks of a compressed air system while it is operating.

Classes 7 through 9 are used to describe compressed air that contains water. Water appears in distribution piping and storage when the pressure dew point of the compressed air is higher, than the temperature of the ambient air.
Oil
There are only five classes for oil set out in the standard (this includes class 0). Classes 1 to 4 cover the range from less than 0.01 mg of oil content per cubic metre of compressed air to less than 5 mg per cubic metre.
Reporting compressed air quality
According to the ISO standard, purity classes of compressed air can be recorded by stating the standard reference number and part, the date of issue, and the three-class designations.

Example: If the compressed air quality was expressed as ISO8573.1 : 2001 1 2 1, the particulate class would be 1, the water class would be 2, and the oil class would be 1.
Request an air quality test
High-quality compressed air will directly reduce the maintenance and breakdown costs of your machinery while enhancing performance and longevity in the process. Good compressed air will also reduce rust and dirt build-up in your piping system.

To check the quality of your air and to guarantee the safety of your staff and equipment, an air quality test is a great option. To request an air quality test for your business, simply click the link below and provide us with a few details.