There are now so many different types of air compressor on the market that it can be hard to decide which compressor will work best for your requirements. Popular types of air compressor available include the rotary screw compressor, and the piston compressor. Both have their own particular uses and benefits, but what's the difference?

To help you decide whether you need a rotary screw compressor or a piston compressor, we've outlined some of the main differences and benefits below! Read on to find out more.
What's a rotary screw compressor?
Have you driven past a big factory or warehouse lately? Chances are that they use compressed air and specifically a rotary screw compressor to help run their manufacturing processes.
A rotary screw compressor consists of two closely interlocking rotors in a sealed chamber. The rotors turn or 'rotate' continuously during operation and as air enters the chamber through an inlet valve, suction pushes the air into the space between the two rotors. Once here, the rotary screw compressor will then eject the air when it reaches a certain pressure.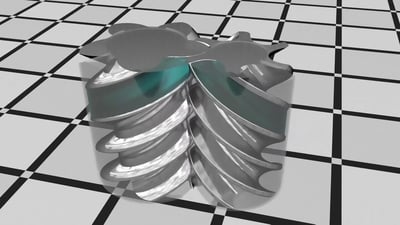 Interlocking compressor rotors. Image source.
A good rotary screw compressor is one of the most efficient types of compressor available. Compressor rotors are designed to operate continuously so there ends up being little surging of flow that may occur in other types of compressors, like piston compressors. This type of efficient operation also results in a dramatically quiet compressor.
Advantages of a rotary screw compressor
The main advantage of using a rotary screw compressor is that they are low pressure, high capacity machines that are designed for continuous use, 24 hours a day, 365 days a year. In fact, rotary screw compressors generally work better and last longer when used this way!
They're a great option for workplaces such as manufacturing environments that require a heavy-duty compressor that can run around the clock, while not costing the earth. The key to running an efficient rotary screw compressor is the right sizing, air system design, and compressor control. If all of these factors are working in sync then you'll have an exceptionally efficient compressor that you won't be afraid to have running all the time!
What's a piston compressor?
A piston air compressor is one of the oldest types of compressor on the market. Sometimes referred to as a 'reciprocating compressor', they get their name because the piston goes back and forth in a reciprocal motion. This movement allows air to move inside a cylinder to compress the air.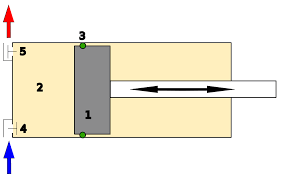 Piston compressor motion. Image source.
A piston compressor is generally used in short increments and will work better when it can take a break. You'll find a piston compressor used in environments like workshops where the compressed air is used in certain tools, for cleaning dust and contaminants, or for painting.
Advantages of a piston compressor
The main advantages of using a piston air compressor are that it's relatively cheap and doesn't require as much maintenance. This is why they're a more popular option for something like a workshop or garage, which doesn't require the use of an air compressor 24/7.
Choose a PneuTech RSCRV rotary screw compressor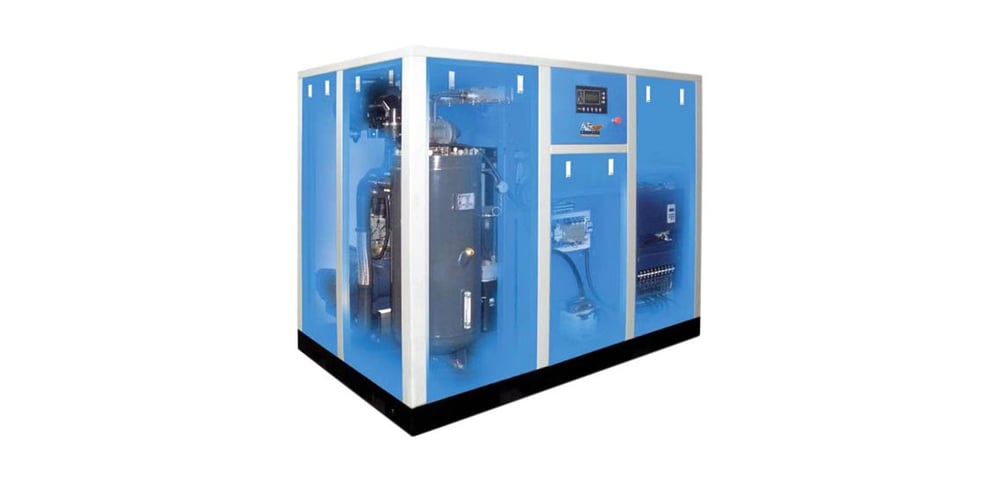 If you're looking to upgrade your current compressor and would like a system that's not only energy-efficient, but able to operate around the clock, then the PneuTech RSCRV series rotary compressor is a great starting point!
Built to last
Built to last in New Zealand's sometimes harsh weather conditions, the robust design of these rotary compressors means they're great for various industrial environments like manufacturing plants. They're also up to 50% larger than a standard rotary compressor so you know it will last!
Reliable
Not only is the PneuTech RSCRV series rotary compressor built to last, it's also incredibly reliable so perfect for those environments where you need to rely on a compressor to run all the time.
Large air intake filtration ensures that the rotors are kept in clean and pristine condition for trouble-free operation of your compressor. The stringent purifying process, provides ultimate lubrication to the heavy-duty bearing assemblies to keep your compressor running at peak efficiency.
Lower maintenance
Constructed from solid steel and seamless tubing, this rotary screw compressor is not only safe, but leak-free. The slow revving air end also allows for more stable temperature control which will reduce machine wear.
Coupled with a large open access cabinet, quick release service panels and spin on and off filtration, any maintenance that does need to be carried out can be done quickly. This reduces the amount of downtime and ensures that the compressor will be up and running again more quickly.
More economical
The PneuTech RSCRV series rotary compressor is an economical option for those businesses that need to run an air compressor all the time. The direct-drive transmission ensures energy is transferred to the rotating rotors with minimal loss, while the oversized air end can sustain longer operations before any maintenance is needed.
In some cases, we've seen that the overall PneuTech operating cost can be less than half of other equivalent compressor models!
High-quality air
When you use this PneuTech rotary screw compressor you'll get quality compressed air! The multiple oil separation system means that 99.9% of all oil contamination is removed from the compressed air supply, while the large air and water-cooled radiators ensure a high percentage of moisture is removed before exiting the compressor.
So whether you're looking for a completely new compressed air system for your factory or perhaps you're looking to upgrade your current compressor, the PneuTech RSCRV series rotary compressor is a great option. Economical and reliable, you can rely on it to run continually to keep your business operating.
You can learn more about this rotary screw compressor here or by getting in touch with our friendly team, who are experts on the PneuTech range.
Not sure whether you need to replace your current compressed air system? Get in touch with us to request a free compressed air audit.