Pegasus Engineering is Christchurch's leading structural steel engineering company specialising in structural steel fabrication, design, procurement and transportation. Their fully-equipped 5,000 square metre workshop in Rolleston has been locally owned and operated since 1977. It's in their purpose-built workshop that you will find their busy team working away on a wide range of different engineering projects from smaller residential jobs, to large custom fabrications for significant tier-one projects in New Zealand.
​Their impressive structural steel workmanship has seen them work on some of the South Island's biggest engineering projects – Dunedin's Forsyth Barr Stadium, Burwood Hospital and Queenstown Central to name just a few!
At times the Pegasus team can have many engineering projects underway all at once which means that their workshop and equipment needs to operate at peak efficiency, all the time. Compressed air and industrial air compressors play vital part in keeping important machinery like their fabrication shop running efficiently.
The challenge
Pegasus Engineering were running their fabrication shop and blast booth off of one large 800cfm, 180HP variable-speed air compressor, which we supplied for them back in 2012. At the time of supply, the large VSD compressor was well suited to their compressed air needs however a lot can change over 8 years, and they were finding that their existing compressed air set-up wasn't appropriately serving their needs anymore.

The blast booth and their fabrication shop each had different compressed air needs. The blast booth needed all of the 180HP variable-speed compressor's capacity but didn't run 24/7. However, the fabrication booth operates all of the time but the team found that they simply weren't using the amount of air that the large air compressor was producing. This meant that the compressed air setup was excessive at times and expensive to run, especially at night.
The solution
As we had worked with Pegasus Engineering previously we knew the workshop and compressed air system well, so we instantly knew the best course of action to take. We monitored and calculated the compressed air usage when the blast booth was not operating and from our calculations, we could then size a smaller and more suitable variable-speed air compressor. The smaller air compressor would be able to run the fabrication shop alone.

We also left the old compressed air system running, however modified this so that it worked in sync with the smaller air compressor. The two compressor systems now engage automatically according to what the plant is running. This new system is a lot more efficient.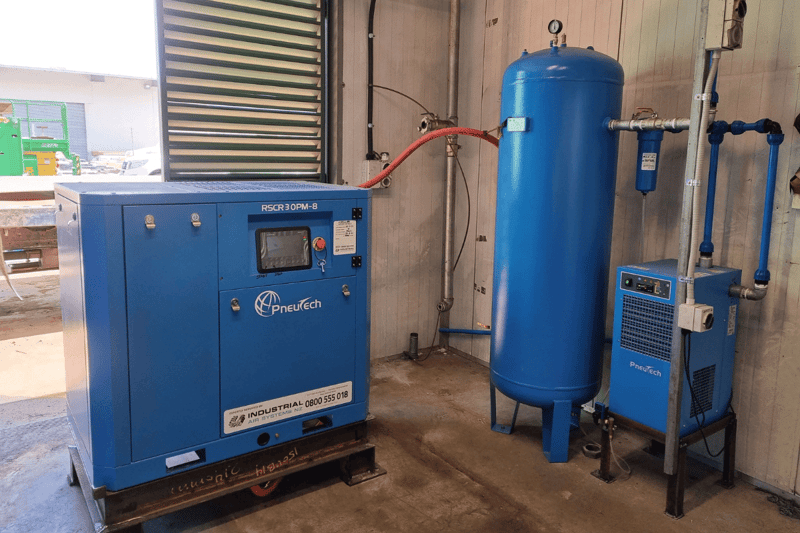 Products used:
A range of different PneuTech compressed air products have been used in conjunction with each other, to make this new compressor system operate seamlessly.
The results
The new compressor setup will see Pegasus Engineering save huge amounts on power as well as servicing costs. This has resulted in a more energy-efficient setup for the company resulting in less power being wasted.

Pegasus Engineering are very happy with the new setup – making the change to the new system has been a no-brainer. This new compressed air system has future-proofed the business as they know they can rely on the new system to deliver the compressed air that they need, and at a lower utility cost.

To learn more about our range of variable-speed drive, permanent magnet air compressors and their benefits, just click below to download the brochure.